Is your business closer to a breakup (losing a valuable customer)? 💔
Let me tell you: The Truth About Breaking Up.
Getting kicked to the curb (by a customer) is one of the worst things to happen to your business.
Every time you lose a customer, you not only lose their current business. You also lose your future growth with them and the profit you would make from them.
To make matters worse, you also bear the expense of replacing those customers with new customers.
Here's an opinion: If you think you're good at what you do, i.e., if people need your product/service and you're helping them in every way possible, then you should take the breakup seriously.
This is because whenever a customer leaves, they are basically saying that you're not that good and that they've found a better match. If you own a business, that would hurt!
Although, it is not possible to save a customer or fix the problem when your customers do not tell you the right reasons as to why they're canceling.
So, no matter what reason they tell you, it is important to dig and get to the real reason. That said, the best strategy would be to make sure they don't cancel in the first place.
So what is the secret to staying together?
Dynamic customer retention strategies!
In reality, it all comes down to three things:
Creating a strong and unique customer relationship.
Providing a customer experience that goes above and beyond expectations.
Customer retention strategies are upgraded constantly.
In this guide, we will learn about the retention of customers, how to measure it, why it is important, how to align them with the latest trends, and how to foster it with every new customer you attract.
For your better understanding, we have categorized the 18 best customer retention strategies into 6 categories which are as below: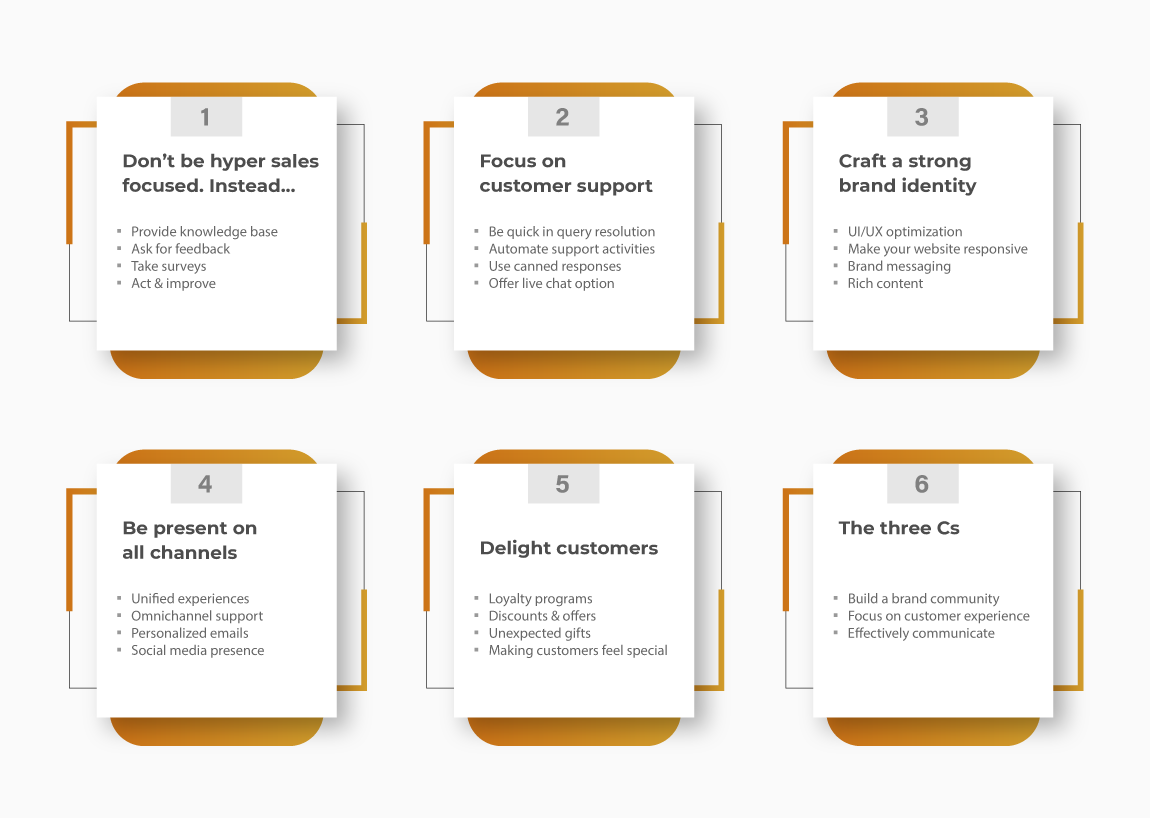 What is customer retention, and why is it important
Customer retention simply refers to a brand's ability to make customers stick to their product/services.
Customer retention strategies are the ones that an organization implements to keep their customers loyal to them.
These strategies include everything from when customers first interact with your brand to when they face issues.
Customer retention is different from customer acquisition.
Retention caters to customers who have already signed up for your services/products.
Customer retention is more than just transactions. It gets as personal as you can think. Studies show that customers view their relationships with brands as similar to their relationships with friends.
Let's get straight to the reason why customer strategy is important.
Customer Retention is More Cost-effective
More than you can imagine!

The probability of converting an existing customer is 60 to 70%. The probability of converting a new prospect, on the other hand, is only 5% to 20%.

Fun Fact:
Did you know that acquiring a new customer is more expensive than holding on to an existing one? Wondering why? Well, the answer is simple:
You will not need to spend big on marketing, advertising, or sales outreach.
Plus, your customers already trust your brand and support reps. They do not need more convincing from your end.
Why Do Customers Leave?
Here, we're going to find out what those red flags are. What triggers a customer? What makes them leave?
I'm just going to put these self-explanatory stats here:

Another (and more recent)
report
from CallMiner states three key reasons that drive customers away:
Poor/Unfair treatment of customers
The price Vs. experience bias
Empathetic services
As a brand, you might be wondering how to retain customer loyalty. Effective customer retention strategies will allow you to identify, track, and sell to customers and make them your long-term sources of revenue.
18 customer retention strategies. Let's dive into it! 🤩
Stop being hyper-sales-focused: Do these three key things instead
Sometimes, you need to drop that salesperson hat and focus on other crucial aspects of being in business. It includes:
01. Make a pool of knowledge available to customers 📚
In order to form a deep bond with a brand, customers need more than just good products/services. They need to know that the brand truly cares about them and makes efforts to help them.
As a brand, you can offer this type of support by creating and sharing evergreen content that helps and educates customers and helps them grow.
If self-service options are not a part of your retention marketing strategy, you need to pace up! Look what others are doing! Look where they're at.
Look at Canva's design school project. This is one of the best customer retention strategies I've encountered.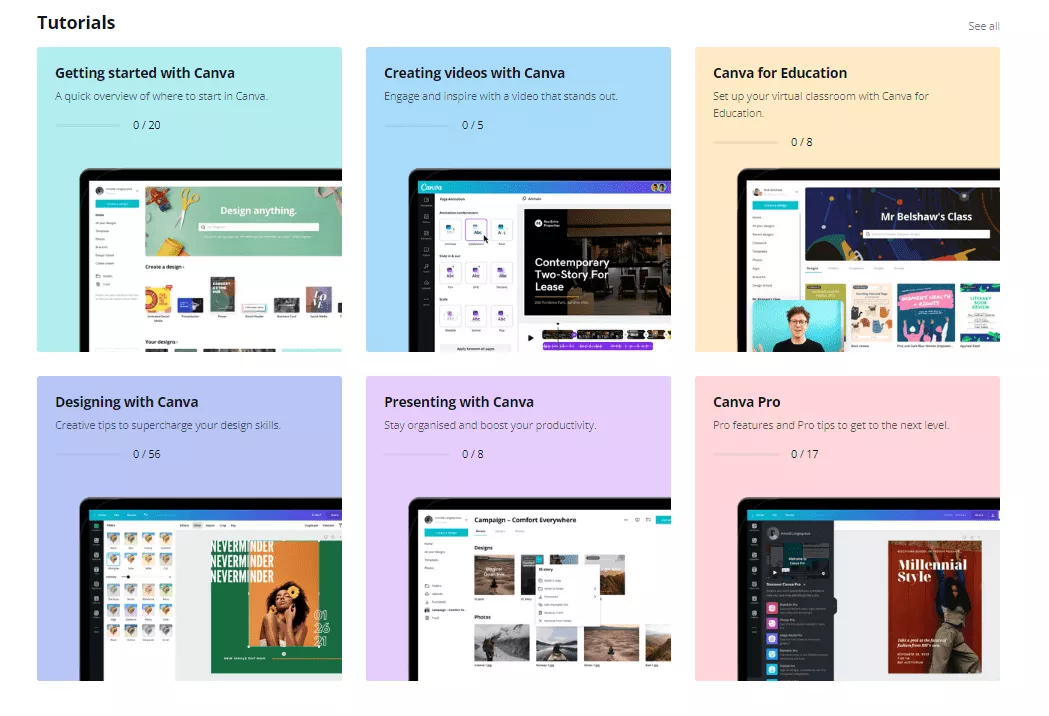 The school provides resources, how-to-guides, and step-by-step video tutorials that help customers use their product as well as hone their graphic design skills. The articles are often interactive with clear navigational features and eye-catching UI.
02. Actively listen to your customers 👂
The most basic churn problems can be tackled by actively listening to what customers are saying about their experience.
Unfortunately, this creates a massive gap between companies believing they provide a stellar customer experience Vs. customers who believe they actually receive that experience.

One mantra to tackle this problem is by making listening an active part of customer support.
Besides, you must ensure that you're acting upon it even if it means you have to go beyond limits.
Let me share a real story.
I ordered dog food from a brand ranked first on Amazon's list.
The experience, however, turned out to be pathetic. My dog got sick and had a bad stomach for a week.
I was pissed at Amazon for ranking the horrible and life-endangering product. So I talked to their customer support team, and I got a refund.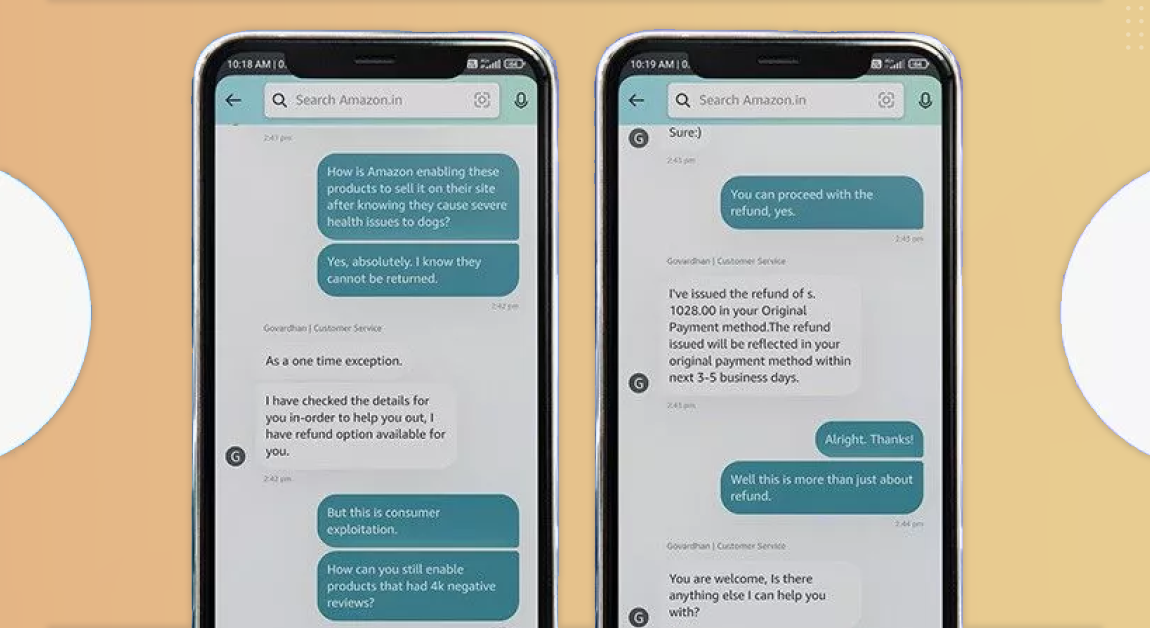 Three months hence, the product is still ranking at the first position, and the negative reviews keep adding. Guess who's never buying essentials from Amazon anymore!
So, what do we learn from this? Listen to your customers! And ACT upon it.
03. Ask for customer feedback 📃
Customer feedback is a valuable feature that must be a part of your customer retention plan. It works wonders in reducing the churn rates too.
If you want to find out what is and isn't working for your customers, it'll help if you hear it straight from their mouths.
Conduct more surveys and give your customers a voice. It is as simple as asking for ratings on a scale or a simple thumbs up or down. Also, ask more specific questions, like:
How helpful did you find your experience with our services?
What is not working for you, and why?
What channels do you prefer using for customer support?
What challenges did you face, if any?
Your team members are closest to the customers and can identify common complaints and general preferences.
Your customers' commitment to your brand will be firm when the trust increases. So, when you build and grow trust, your customers will gladly advocate for your brand.
Example: Expedia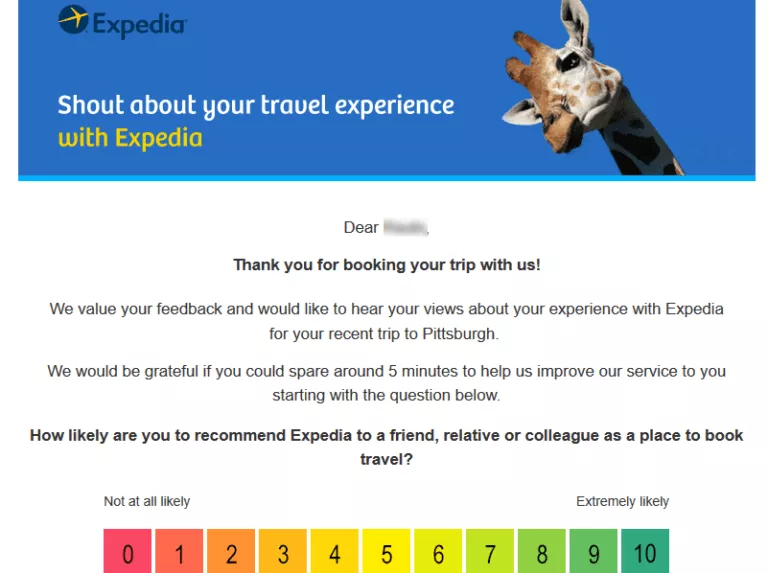 Expedia
uses customer retention automation features to collect customer feedback once their trip has ended. This helps feedback become a consistent and informative part of your business practices.
Give a boost to retention rates with surveys.
Find out what customers have to say about your brand, and strategize further accordingly. Now, with DeskXpand's in-built customer satisfaction surveys, create and share surveys in just a few taps.
Make prompt customer support your companion
Nothing is more frustrating for customers than having to wait for your team to get in touch with them. So, how to retain clients? Well, speed is all that matters.
40% want companies to focus on taking care of their needs quickly.
Below are some ways to ensure speedy support to retain customers and foster loyalty.
04. Enable quicker resolution of customer queries with customer retention automation
We live in a fast-paced world where everyone expects answers in the blink of an eye. Customers, too, expect to get answers as soon as they pose their questions or register a complaint. If you fail to do so, you'll lose them to your competitors.
However, a quick resolution is not easy. It can impact your team's performance and increase the overall response time. The manual way of handling it makes things even worse.
A help desk software with in-built automation capabilities can help you become more efficient.
For instance, you can set ticket properties like priority, agent, status, etc. You can also assign tickets to the right agent and quickly resolve issues.
This makes customers feel extremely important. This emotion triggers them to become loyal customers. If you're seeking a customer retention silver bullet, exceptional and timely support is the closest you will get.
Additional handpicked resource: Automated ticket routing: Your guide to lead customer support
05. Let the most suitable agent take care of a particular query 👩
Customer queries are not exactly a challenge. The challenge, however, is finding the right agent to solve the issue.
Say, for example, a customer purchased your tool. At any point during onboarding or otherwise, they might need some assistance.
In order to keep them engaged, it is important to delegate them to an agent with the right expertise. Assigning someone who has expertise in sales to solve a technical issue will only increase the cycle.
Help desk software, based on the rules that you have set, assigns tickets to the right agent. Further, agents can have individual dashboards where they can get all the details about assigned queries.
06. Focus on messages that positively impact customer relationships 📄
Not getting instant responses that are personalized and aligned with your brand can frustrate a customer. By leveraging canned responses, you can include common greetings, draft accurate responses, and design meaningful and precise messages.
Other tips for effective communication with customers include personalizing each interaction, avoiding negative phrases, adding a touch of empathy, and such.
07. Implement live chat for 24*7 availability 💬
Live chat is a great way to improve customer retention rates because you're responding to customer concerns in real-time.
Your customers come for a live chat because they could not find the answer to their query on their own.
Live chat makes you available to your customers round the clock and helps create a great customer experience. And a user experience is what matters the most!
Now never keep a customer waiting.
Take your first step to boosting customer satisfaction with DeskXpand. See how help desk software can be a game-changer for your business.
Craft a solid brand identity to improve customer retention
Positive brand recognition is crucial for standing out in the market and cultivating customer retention. Brand identity comprises various things, including visuals and brand messaging.
In this section, we will focus on two main pillars of your brand – website and brand values.
08. Work on the look and feel of your website 💻
UI and UX must be a huge part of your customer retention plan.
Your website UI refers to the elements (like images, and typography) a user engages with on a website. UX refers to a user's experience while accessing and navigating your website.
You might wonder how UI, UX, and customer retention are related.
Optimizing the UI and UX of your website can lower your bounce rates. It guarantees better conversion rates even with existing customers.
These customers have bought from you before, and they are highly likely to buy from you again.
Hence, better UI and UX = better conversion rates. This also includes the UI and UX of your knowledge base.
If you make it easier for customers to find what they're looking for, they'll encourage this smooth experience.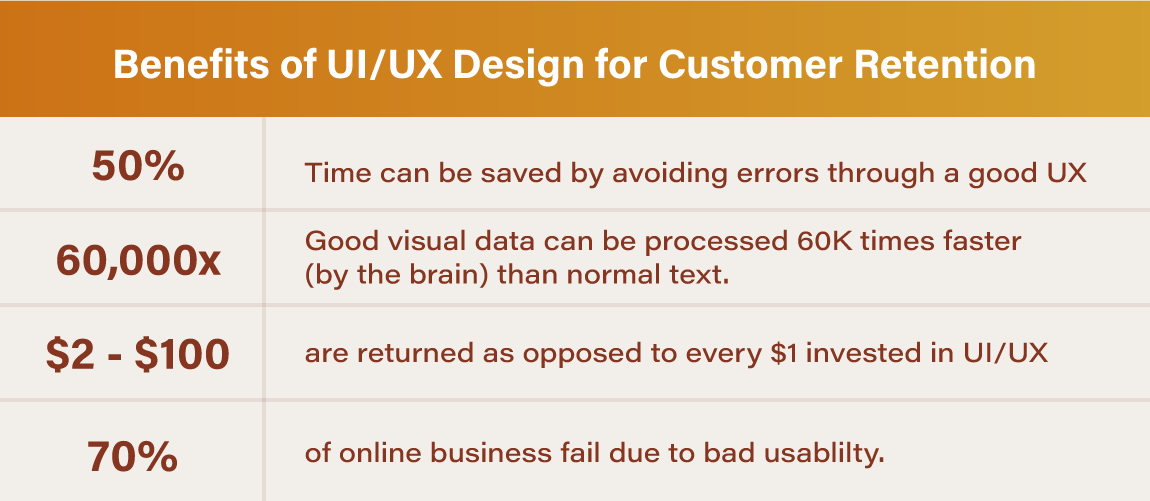 Let's look at ways to increase customer retention through website UI and UX:
Clarify navigation
Simplify your main menu
Define clear structures
Define categories and sub-categories
Show related content
Create high-quality and interactive content
Make sure your website is mobile responsive
Make sure you remove elements that slow down your page speed
No broken links!
09 Align your brand with a bigger cause 👏
An effective customer retention plan is supporting the causes your customers care about.
According to a report by Zendesk, 54% of customers want to buy from companies that prioritize diversity, equity, and inclusion.
The same survey states that 63% of customers want to buy from socially responsible companies. Let's look at some miscellaneous examples:
I. Bombas:
Bombas donates one clothing item to a homeless shelter or related charity with every purchase on their website.
II. Adobe
The computer software company has a Create Change Program that encourages staffers to give. For every 10 hours, a worker volunteers to donate $250 to that employee's favorite nonprofit.
At the company's San Jose headquarters, its Girls Who Code program teaches underserved girls coding over the summer and pairs them with mentors.
Their employee perks include reimbursement of up to $25,000 for adoption and $25,000 for surrogacy expenses.
Be omnipresent (or at least be present on channels your customers use)
Omnipresent marketing has started gaining momentum. It is an approach where you interact with customers across channels in ways that are relatable to them.
Here are some ways you can ensure a strong presence on various channels.
10. Adopt an omnichannel strategy 🌐
To deliver a more unified experience, consider engaging with your customers on their preferred channels.
Two of the most popular channels are – push notifications and emails. You can also try a different approach.
Use WhatsApp as the channel and experiment with it. Make user categories based on multiple parameters (age, generation, gender, tech-savviness, etc.)
Consolidate everything, adopt omnichannel
You can only experiment with multiple channels if you have them sorted at your support end. Consolidate everything in one interface and streamline your processes. Check out DeskXpand's omnichannel solution.
11. Boost retention rates with emails 📧
There are so many ways you can use emails to boost customer retention. You can send reminders to customers regarding cart abandonment, product recommendations, etc. Once a customer partners with your brand, you can send them a welcome email.
To further make your emails more impactful, consider giving a personal touch by adding the recipient's name, including relevant information that users find relatable.
12. Consider having a strong social media presence 👍
Customers are increasingly turning to social media to get in touch with brands. Apart from doing social media marketing to spread awareness, it is also important that you prioritize social media for support.
You can leverage social media channels to offer quick help and assistance to customers who don't want to wait on hold.
Example: Southwest Airlines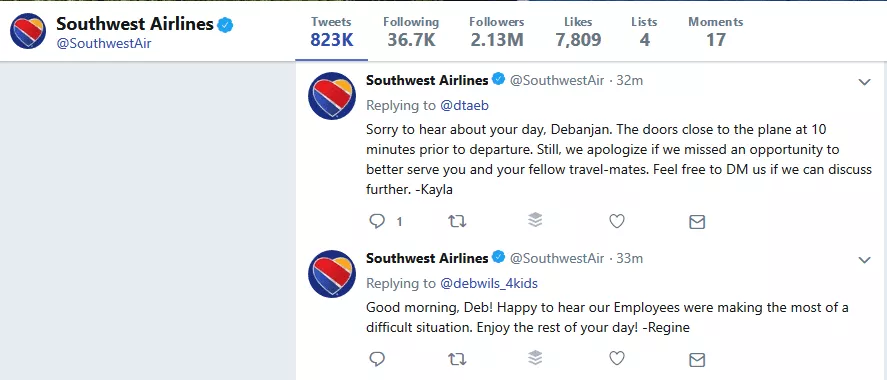 Look at Southwest Airlines' Twitter page. They quickly respond to and follow up with customers who have had a negative experience or are looking for immediate assistance.
Find ways to delight your customers
Humans are social creatures. Our relationships with one another are important – even in the business environment.
Once in a while, small gestures like offers on anniversaries, thank you emails, etc., are not going to do any harm. Below are some ways you can amaze your customers and create loyalty.
Handpicked related resource: Ways to Become a Customer-oriented Brand
13. Set up customer loyalty strategies programs 🎫
Loyal customers won't just provide repeat business. They're more likely to communicate free recommendations to their colleagues, friends, and family.
This works wonders for any brand looking to create a cycle of retained customers. Your company can adopt this buzz marketing and cultivate customer loyalty for long-term success.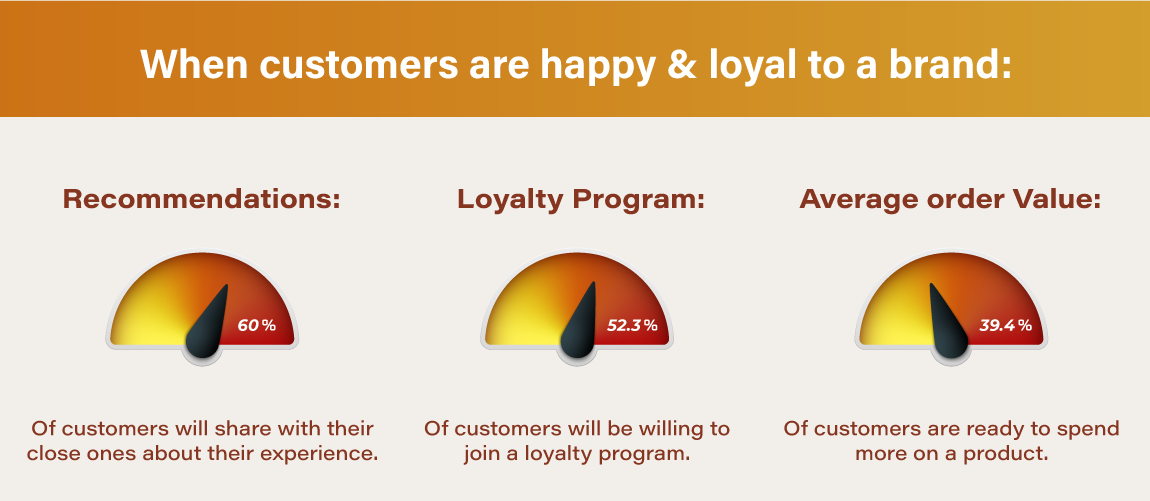 Sometimes customers are also willing to spend more.
Studies
show that loyal customers are 23% more likely to spend on your brand than the average customer.
Data shows that increasing customer retention by 5% can increase your profits from 25% to 95%. On average, the existing customers provide 65% of a company's business.
14. Focus on little things that make customers feel special ✨
In this world of flashy marketing, sometimes, small things can do more for your brand than any advertisement campaign.
Surprise them with unexpected gifts, brand swag, and such. Things like holiday cards, gifts for celebrating milestones, etc.
And hey! Also, apologize when you make mistakes. Rarely, a sincere apology will not appease a customer who is annoyed.
15. Offer freebies, discounts, deals, and such 🎁
Consider using discounts and freebies to retain customers. If you own an ecommerce store, the most common methods are free shipping, member-exclusive discounts, value-based offers, product bundling, and so on.
Other ways to influence customer loyalty include referral offers, feedback offers, customer milestone deals, etc.
Here's an example of a Marks and Spencers email incorporating an exclusive birthday gift. Such kind of personalized offers makes customers feel extra special.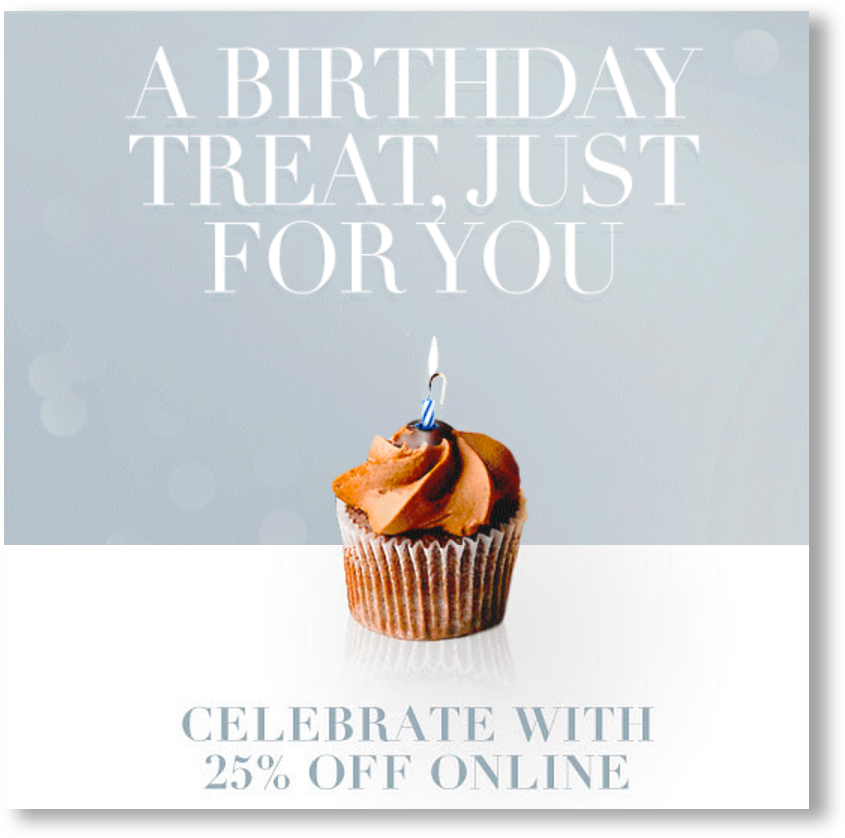 Three Cs for the win
Other than several tips discussed in the above sections, here are a few other customer retention strategies that will help you foster customer loyalty.
16. Build brand communities to future-proof your brand 👥
For your existing customers to develop a stronger emotional connection with your brand, it is important to develop a brand following.
When customers are committed to your brand, they become the best marketing tool and will often stay loyal to your brand.
One of the best examples of brand community is Lego. The toy giant has seen unparalleled success, and one of the major reasons is its community strategy.
From the co-creation of products to independent fan communities, to the ambassador network, Lego does a great job of engaging and retaining customers.
This way, when you give ample opportunities to your customers to connect with your product/service/brand, you will grow trust among them.
17. Elevate the customer experience 😇
There's hardly any need to explain why customer experience is so important. However, you need to know some common mistakes that can mess up your CX strategy.
Often, organizations consider CX as a tactic. But it's not. CX is more of a culture your company needs to embed deeply to drive favorable results.
Another common mistake when crafting a CX strategy is neglecting customer support. Great support by becoming more efficient and prompt enriches customer experiences.
Handpicked related resource: 8 Proven Tips to Elevate Customer Experience
18. Communicate with customers effectively 🤝
Effectively here indicates two things – getting in touch with your customers on the right platform and being proactive in communicating even if your customers are not reaching out to you always (of course, in a non-invasive way)
We did cover a lot of points, for instance, active listening, multi-channel communication, social media, etc., in the previous sections. But what we have not yet discussed is the personal touch.
Any and every interaction that you have with your customers, whether it is solving a query or sending a reminder that their subscription is expiring.
72% of customers will only engage with personalized messaging. It is a sure-shot way to improve customer retention and engagement.
Additionally, providing customers with a tailored experience will encourage them to make repeated purchases.
It's your turn now; to put in the efforts 🤘
I am not asking you to listen to me. And frankly, many people reading these customer retention strategies won't do exactly as I say.
I get it, it is expensive, and you've to put in a lot of effort. However, the problem is that you and your business will get left behind if you don't work on your customer retention strategy.
The customer support world is changing quickly, and we're headed towards a world where everything will be defined by experience and relationships.
You can ignore my warnings all you want. You can bury your head in the sand. Or you can jump on board, create amazing customer experiences and thrive!
Start investing in customer retention and customer experiences today with a free trial from DeskXpand.
* This article was written in collaboration with Yesha Bhatt.