"If your customer retention is poor, then nothing else matters."
Be it service providers, start-ups, or well-established organizations, staying on top of customer support services is critical for all of them. It is essential for customer retention. Companies must continuously ensure customer satisfaction and ensure all their needs are met—everything from generating a support ticket to passing through the resolution workflow.
Most organizations have to manage a regular influx of customer support requests. Only a well-planned ticket management system can keep your support up and running. A digital system centralizes communication for end-users and streamlines the work of support agents. It can drive seamless customer support and improve customer satisfaction.
Efficient customer support involves resolving support tickets in the shortest period and according to the agreed target resolution times, known as service-level agreements. The service desk ticket handling process typically works towards areas of incident management and request fulfillment. Support executives may also build and maintain a knowledge base to support ticket handling best practices to collect information about known issues and help reduce resolution times for similar tickets.
Typically, the task of the customer service team begins with a request from the end customer. The request generates a support ticket, and its details are passed through the workflow. Next, an agent is assigned, and they eventually resolve the issue. Designing a transparent ticketing system and implementing the latest helpdesk best practices is vital for the smooth execution of support queries.
Luckily, if you're looking to enhance your customer support services, there are many easy-to-implement practices that you can adopt today. This article examines different ways to manage helpdesk tickets and offers proven ticket handling best practices to improve your support performance.
1. Decide a Universal Method for Ticket Prioritization
The first and foremost of the ticket handling best practices is defining a fixed method for ticket prioritization. Without a defined method of prioritization, your tickets will always be cluttered. Setting up a method will prevent the agents from cherry-picking the tickets. There are two ways in which you can prioritize your tickets.
This method decides the ticket order based on the chronology of its registration. It enables you to address the support requests in the order they're received. A chronological method will help you optimize workflow and prevent backlogs.
Prioritize Based on Urgency
This method gives the ticket assignment power to the hands of the admin or support managers. Most ticket management solutions take an email, generate necessary contact information and in-depth details on the issue, and impact the customer. Admins can pick requests based on urgency and the type of problems your customers face.
2. Avoid Unnecessary Creation of Tickets
The unnecessary creation of tickets that have approved resolution leads to overworked support agents and staff. When an issue presents itself repeatedly, your agents should develop an approved resolution for it. They can then document it within the organization's knowledge base. Encourage your users to use your self-service for approved resolutions. You can direct them to these knowledge base articles and empower them to solve the issue by themselves. Pick a software tool that can help users connect with approved resolutions before an unnecessary ticket is created.
3. Monitor Your Ticket Status Regularly
As a support admin or manager, you must track and monitor your ticket status regularly. Make sure each ticket has a status. For instance, you can divide your workflow stages into various tags like "registered," "open," "in progress," "pending," and "closed." Your ticket management software should help you track the status of each ticket and view the updates on a unified dashboard. It enables you to follow each ticket's progress and prevent requests from getting lost or neglected.
4. Decide Urgency Based on Ticket Information
Support representatives must implement and enforce a standard ticket format. It can include information about the customer, their description, and an assessment of its impact on the business for the service desk ticket handling process. Customer support representatives must implement and enforce a standard ticket format that includes contact information for the user.
Everything needs to be decided beforehand: A description of the issue, its resolution assessment, and the time needed to meet the resolution. You can use this information to find out how urgent each ticket is. Support teams can hence respond to tickets based on their priority. The development of standard methods to assess the ticket urgency helps to ensure that the service of the support staff aligns with the priorities the needs of the business.
5. Analyze Your Existing Workflow
Take a complete overview of your existing support, support agents' skills, loopholes in your workflows, technological needs, and so on. Finding out loopholes and trends in your existing support will help you find where you're lacking.
Carry out a monthly or quarterly survey to evaluate your existing support for the service desk ticket handling process. You can send feedback forms to customers after meeting the resolution. Find out where your team's skills do and don't measure up.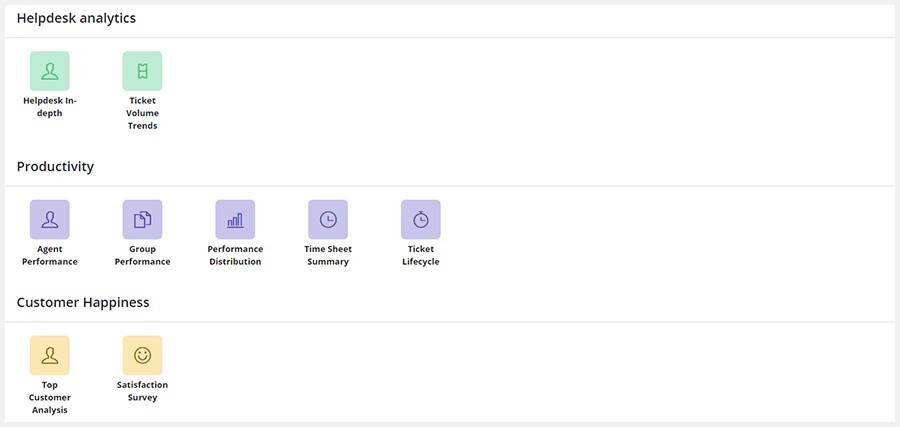 DeskXpand Analytics
The analytics features of a helpdesk will help you understand customer behavior and make data-driven decisions. You can gain actionable insights with large-scale customer data metrics. In short, you can get a complete 360-degree view of your support performance.
Support managers should strongly consider measuring at least the following KPIs:
Average response time
Average resolution time
Average overall ticket handling time
Ticket escalation rates
Self-service usage rates
With the help of data, you can evaluate strategies to design better experiences. Use the data and predict the behavior of prospective client queries. Hence, make sure you have analytics features in your helpdesk. Align your support with the latest customer support trends. Hence be aware of the latest trends and then constantly update your support strategies accordingly.
RELATED: Top 10 Customer Service Trends to Follow in 2021
6. Make Self-Service Available
The cost of resolving a ticket is directly proportional to the escalation stage it reaches.
A study by Informa Tech (in 2017) states the average costs for ticket resolutions by escalation levels in North America:
Tier 1 Ticket Cost: $22
Tier 2 Ticket Cost: $91
Tier 3 Ticket Cost: $195
Field Support Cost: $416
Vendor Support Cost: $1015
According to the same research, resolving a ticket through customer self-service would cost just two dollars! It is precisely why enabling self-service is one of the most critical aspects of customer support.
Go for a helpdesk that lets you provide self-service from within. You can go for a separate helpdesk software as well. It will help you reduce the number of customer calls.
By implementing DeskXpand's self-service features, Jonathan, a healthcare start-up entrepreneur, was able to reduce customer support calls by 35%. He was able to forecast the problem of larger customer service requests even before he began his new venture. Read more about Jonathan's journey with DeskXpand.

DeskXpand Knowledge Base
DeskXpand is an omnichannel help desk with comprehensive self-service and robust ticketing features. It helps you deliver an enhanced and flexible customer experience across multiple channels. I am sure you want to achieve complete visibility, reduce your customer inquiries and attain a high-resolution rate like Jonathan. Check out DeskXpand now!
7. Get Rid of Manual Tasks
Manually filtering emails, tickets, tasks, and so on can be a significant time sink for your helpdesk. Plus, excessive spam mails, duplicate tickets, and repetitive issues increase the probability of overlooking actual tickets that require attention and timely response. To eliminate these problems, support managers must look forward to helpdesks that provide ticketing automation. Automating manual tasks will help you gain a competitive edge and relieve your support agents of the burden.
8. Decrease Your Response Time
The best way to decrease resolution time is to collect the necessary information when the ticket is created. It is also the best way to avoid lengthy email exchanges with customers. You can use the ticket management system to form request templates to ask users the most important questions before creating a ticket. You can also customize the request templates to reduce back-and-forth conversations with customers.
9. Avoid Unnecessary Escalations of Tickets
If you escalate a support ticket to a higher support level, it means you're increasing the total cost of the resolution. So it is vital only to escalate tickets whenever it is indispensable. If a ticket approaches an SLA violation, it is automatically escalated. You can prevent this from happening by ensuring that your agents respond and attend to the tickets promptly.
As a support manager, you can also avoid unnecessary escalations of tickets by configuring alerts for tickets approaching SLA violations. These tickets can be treated as high-priority before they result in an unnecessary escalation. It is useful when a ticket may have been missed or incorrectly assigned and is now approaching SLA violation due to having been overlooked.
With this being said, escalations should be encouraged and welcomed in situations where they are necessary. For example, when agents need additional support for a positive business outcome, they must willingly escalate the tickets.
10. Implement a Tiered Support Structure and Segmentation
A tiered support structure is a must for more extensive and established companies that deal with a higher volume of tickets. It ensures that the most qualified technicians are focused on the most demanding incident fixes. At the same time, lower-tier technicians can focus on more straightforward tasks like reviewing/approving/routing tickets and fulfilling basic requests. This will optimize how your support staff uses their time and reduce response time at each level.
You can also segment your tickets to meet the SLAs consistently. Segmenting support tickets ensures that the support request pertaining to a particular technology is routed to the most qualified person who can resolve issues as quickly as possible. However you choose to segment, the ability to triage support requests efficiently with segmentation can decrease first response times and positively impact customer retention and satisfaction.
11. Empower Your Support Staff With the Right Tools
Support agents need the right tools to resolve customer issues effectively. The whole service desk ticket handling process fastens when agents receive tickets with accurate and up-to-date information. The best way to empower your staff is with ticket handling software that helps them stay organized and reduces duplicated or misdirected effort.
As the ticket moves through the resolution journey, different agents may be involved. Your support agents also need easy access to customer data as it provides a historical view of the customer's journey with the brand. If every person involved could review the documented history, the support would become all the more efficient.
It is also a major relief to the customers as they do not have to repeat and re-explain the issue to several support agents throughout the service desk ticket handling process.
Take Your Ticket Management to the Next Level!
Many organizations design their resolution journey or workflow based on these ticket-handling best practices. It can only happen if you have efficient tools at your disposal. A good ticket management solution will help you frame the best and most efficient customer support, while a bad one can break your workflow.
*Enters DeskXpand*
DeskXpand is an omnichannel ticketing system that allows you to implement all the ticket handling best practices mentioned above. The great thing about DesKXpand is that it is flexible, not prescriptive. It gives the organization full power to determine which practices and recommendations work best for their business niche. There's no right or wrong method. You have to pick what practices will suit you the best.
With that being said, our readers who implement and follow these ticket handling best practices are not only able to meet but surpass their customer's expectations. So, are you ready to meet the demands of today's digitally-driven world? Take your customer support to the next level with DeskXpand.