Your support agents might not directly say it, but they feel frustrated.
Sending hundreds of emails, and making dozens of phone calls, your agents are buried under the ocean of tickets. Just like this poor chap.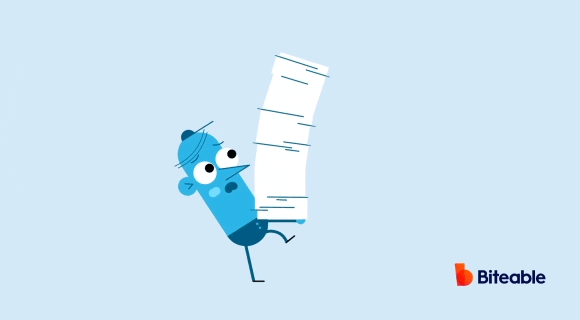 Self-service knowledge base is the solution you need; to make customer support a breeze for both agents and customers.
But a problem – where do I start? Yes, I know that's exactly why you are here.
But honestly, creating a knowledge base is not as difficult as it looks. You'll find out how to build a knowledge base with this post!
Here's an overview of topics that will help you create a knowledge base:
Knowledge Base is Essential – No Debate Whatsoever 💯
Sharing a personal experience. There are various tools that I use for writing, for instance Google Analytics.
I am not at all tech savvy. And calling someone to solve a query; I'd rather die.
What I do instead, is self-help by going through their knowledge base. Super convenient. Super fast.
Like me, hundreds of customers prefer self-service over human contact – to be precise, the number is 40%.
Additionally, an overwhelming 91% of customers say they would use an online knowledge base if it were available and tailored to their needs!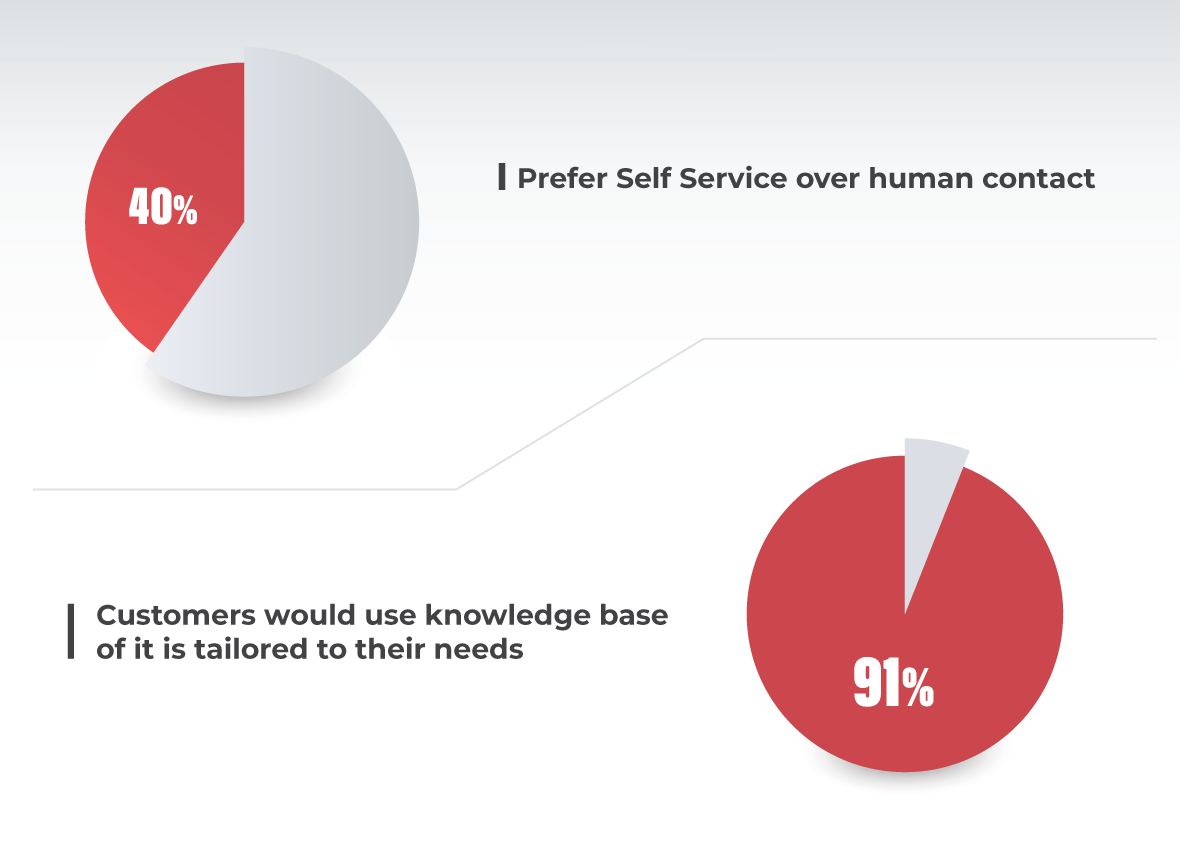 Modern customers want to-the-point and fast answers. Not lengthy email replies and calls.
Building a knowledge base with DeskXpand can help you achieve that. You can provide your customers with an immediate access to information without involving others.
Your customers will love it. And so will your support staff. Creating a knowledge base will reduce their workload and improve their productivity.
But… Is Just Having a Knowledge Base Enough? 👀
Knowledge base is a self-service repository. It's a read-only portal for your customers. It won't enable you to facilitate interactions with your customers.
For providing greater support, what you need is a full-fledged helpdesk software.
From knowledge base to ticketing to omnichannel support, a helpdesk software gives you everything you need to resolve customer grievances.
DeskXpand is one such helpdesk software that provides everything you need to seamlessly manage customer support.
Take a demo to see how features like knowledge base along with ticketing, omnichannel, etc. can help your business.
The below sections cover all the information you need to successfully create knowledge base for your business.
Chuck the Chaos Beforehand with Knowledge Base Structure 😇
To answer the question: where does one start from? Map out the structure! That will help you bring more clarity and organize your content.
Simultaneously, start working on the questions. Make this whole thing a team project. Bring people from consumer-facing roles like support, sales, etc.
They will be able to make a list of questions that customers frequently ask. It can be queries related to refund or onboarding or password reset.
If your business has anything to do with software, it's also good to involve the technical team. Your engineers might be able to tell which features of a product need to be explained.
Coming back to the structure part, the universal method is the 'category > section > article' structure.
Take for instance, Instagram's knowledge base. It has a very traditional structure.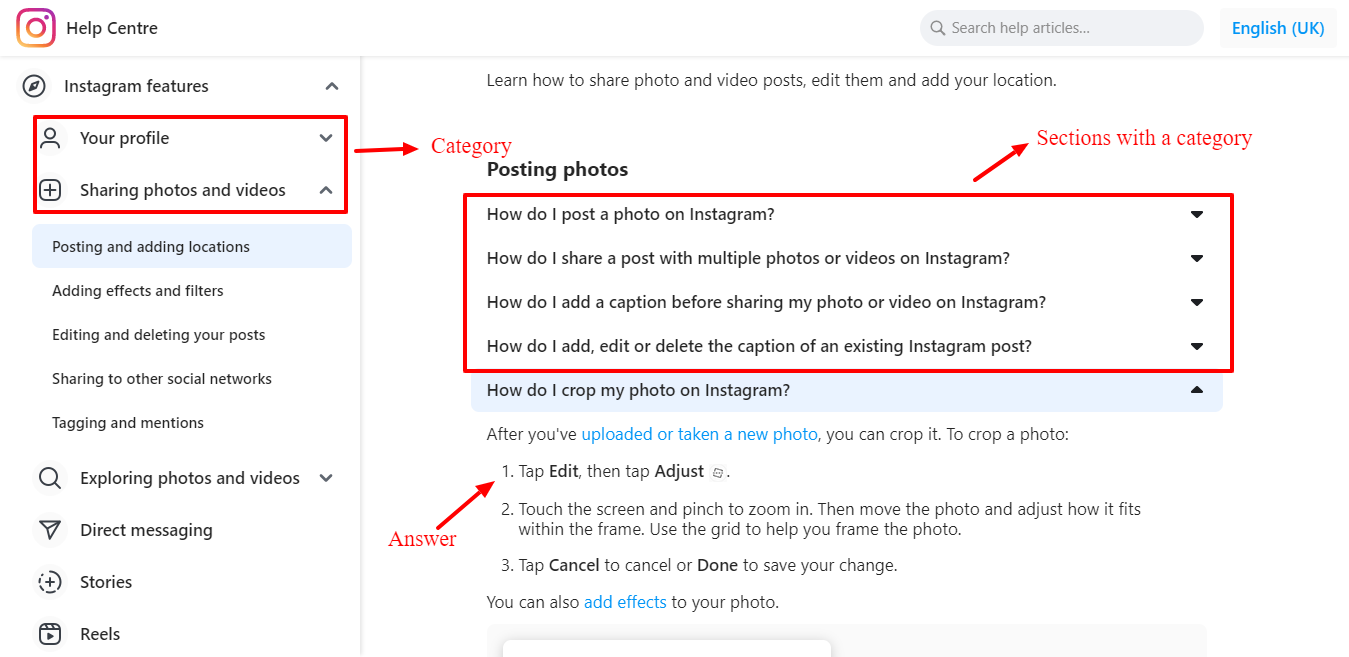 There are main categories like profile, photo sharing, direct messaging, etc. Within these categories are different sections.
✅ You can start the process of creating knowledge base by defining high-level categories. You can organize categories based on product type, buyer journey, user type, etc., depending on your business.
For example an eCommerce company can organize queries by profile, order, delivery, payment, cancellation, and such.
Knowledge base of a medical organization can be categorized based on appointment booking, symptoms, report management, etc.
✅ Once you have the basic categories in hand, you can move forward to creating subsections for each. It is entirely up to you how you want to structure your knowledge base.
There is, however, one thing to keep in mind – your customer. Think from their perspective how they would want the knowledge base to be organized.
The key is to make the structure as intuitive and as clear as possible, allowing users to quickly search the information they need.
Must Haves Exist for a Reason!
To successfully create knowledge base there are some best practices to follow. After analyzing knowledge bases of different companies, we have created a list of these crucial elements.
A. Easy Search Functionality
All of us know how important search is. So, we are going to focus more on how you can enhance the search functionality when creating a knowledge base.
Help users with curated query suggestions to set them on the right path.
Make the search box wide enough and put it in a place where users can easily find it.
Try not to discourage users with 'no results'. Instead provide links to contact us, or email addresses.
B. Visuals Speak Louder Than Words
For better ROI, your knowledge base needs visuals. Adding screenshots is the most basic thing to do. When you build knowledge base, also consider creating videos or GIFs. You can demonstrate how to processes, complex features, etc. using videos.
Slack, for example, has an entire section dedicated to how-to videos. It is highly beneficial in increasing engagement, reaching a wider audience.

C. Include Contact Support
Sometimes, even after reading articles, and watching tutorials, your customers might need more help. Providing access to contact information can help them get in touch with you. You can consider providing a contact form on the knowledge base. Even adding a live chat feature is a good idea!
D. Configuring Roles & Permissions
Role-based access is another important functionality a knowledge base needs. You do not want all your employees to access every article or template. Roles and permissions enable you to determine which support executive can have access. You can also determine who can write, edit, review, or publish a knowledge base article.
E. Ready Templates
Ready templates make it convenient to create knowledge base articles. They speed up the process of article creation, and improve consistency by re-using formats.
Helpdesk Software like DeskXpand, saves you time and effort in building knowledge base articles from scratch. With in-built self-service knowledge base functionality you can enable your customers to get instant answers to common questions.
Take a personalized demo to understand how your business can benefit from our helpdesk software with in-built knowledge base capabilities.
Simplicity Will Make 80% of Your Writing Part Easy
While it may feel tempting to be another J.K Rowling, remember, you are writing to solve a problem and not tell a story.
A user who wants to change their password urgently is least interested in knowing the benefits of having a strong password. Your knowledge base article should be easy to skim and get straight to the point.
When building a knowledge base article, make formatting your best friend.
Add bullet points and lists. Create emphasis with bold and italics.
Link related articles to help the audience easily find other relevant information.
Watch the tone and style of the article to best match your brand identity.
Eliminate any possible distraction, and have a clear flow of the article. Information that's important goes first, add call to actions where necessary.
Once you write and publish, your job is not done. You will need to constantly monitor performance. Customer surveys are a great way to find out if knowledge base articles are helping them solve their queries.
Having a well performing knowledge base ultimately helps in improving customer satisfaction, and reduces the number of tickets you receive.
How DeskXpand Can Help Your Business
DeskXpand Helpdesk Software aims to make customer support a breeze.
Packed with cutting edge features, our software helps businesses streamline their support processes to enhance customer satisfaction.
Self-service knowledge base is one of the prime functionalities that helps support teams resolve queries in clicks.
Using DeskXpand, you can use ready templates, write articles, and create relevant categories for each article. It also gives you the ability to review articles, set role-based access, and publish them.
Apart from knowledge base, you get a wide range of features like ticketing, omnichannel support, help widgets, customer surveys, and a lot more!
What truly makes our helpdesk software amazing is the sleek interface. With smooth navigation, it leaves no room for any confusion for your support team.
You will have to see it yourself to believe it! You can take a personalized demo to get an in-depth understanding. Share your requirements with us and we will get back to you!