Don't get annoyed. It may sound basic, but we need to get this straight.
What is marketing, actually?
Marketing is when you show off your Company t-shirt at a conference when you send out a tweet. When you run a PPC campaign. Or when you create a video for a product that you sell.
In any case, here's what a typical marketing funnel looks like – spread awareness, create interest by suggesting a solution, and get the audience to take a desired action.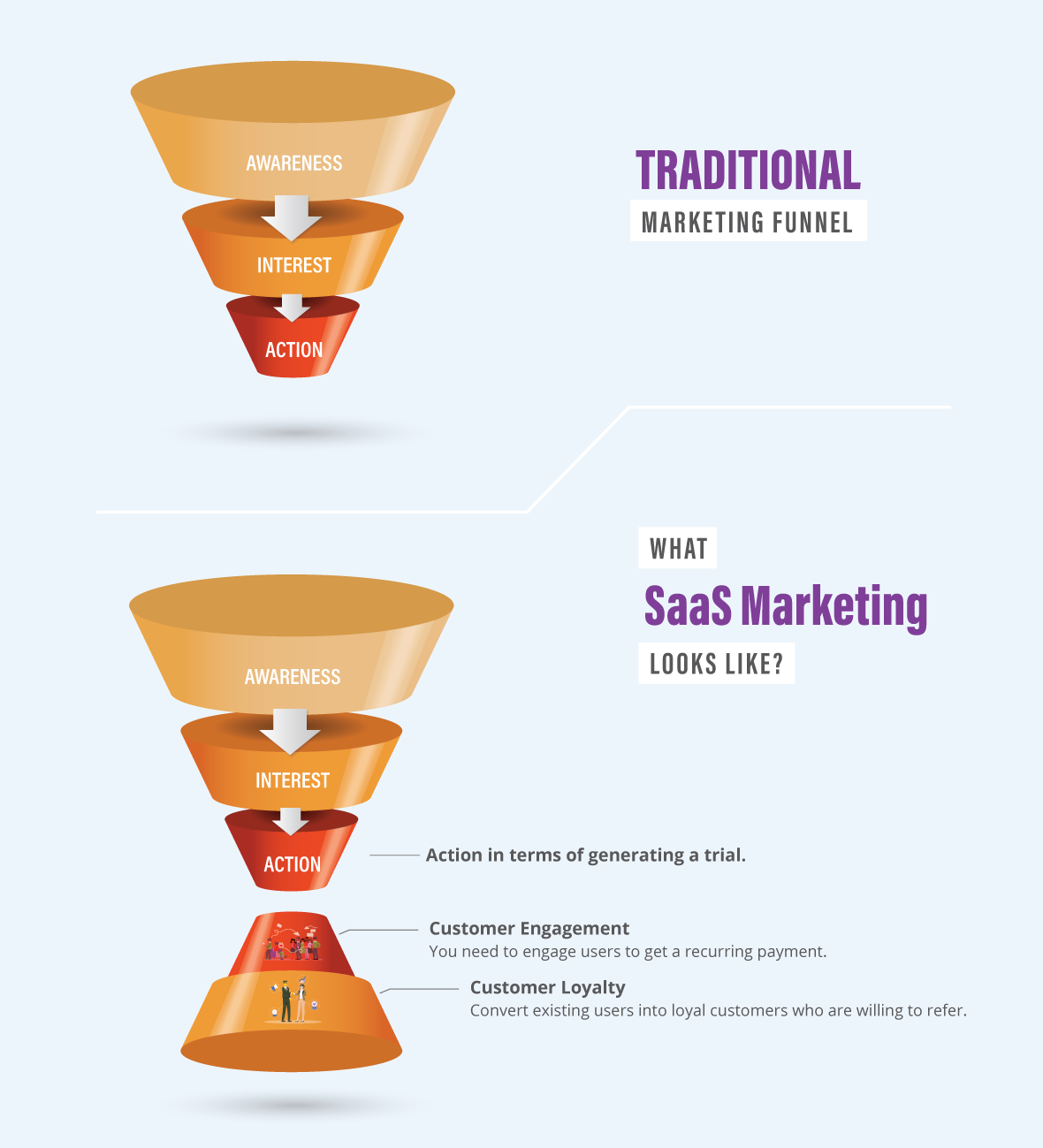 So, what is marketing in the context of 'SaaS'? 🤔
In the context of SaaS marketing, things become a little more complicated.
You of course need to work on spreading awareness, but your job is not over once the action is done.
For instance, the first action you want your user to take is a free trial or one month subscription. Once they reach here, you want to push them towards a recurring payment and ultimately becoming a lifetime subscriber of your SaaS product. You can always hire a nyc branding agency that can help you correctly brand your Saas products.
This push is what makes SaaS marketing different from marketing other types of business.
Two most important considerations for B2B SaaS marketing
Look, it's hard to spread the word, leave alone convince users to take a free trial. Because the industry is supersaturated.
Awareness is the first step for your b2b saas marketing is that Your business needs to be in front of the right audience who is genuinely interested in your product.
Second, is to engage customers by providing them the right information they need to continue using your product. If a customer using a free version fails to understand the nitty-gritty details of your product, they will not move forward with the paid subscription.
The foundation in achieving both these goals is having a knowledge base. 🔎🔁 📚
Knowledge base SaaS marketing will not only help with awareness and retention but also enables users to use your product in the best way possible.
Deskxpand is a helpdesk management software that comes with built-in capabilities for the knowledge base. You can create articles, categorize them, as well as publish them. See how your SaaS business can benefit from the knowledge base feature.
With SaaS content marketing at the center, a knowledge base helps build more credibility 😎
People only buy from companies they know or based on somebody's suggestion.
Do you know 7 in one customer will buy from a brand they trust?
Brands that earn customer trust are rewarded with loyalty, sales, and positive recommendations.
A knowledge base for SaaS with strong content is the first step you can take to spread a word about your business and build trust. With a knowledge base as a SaaS marketing tool, you can establish yourself as an authority in your industry.
Your customer will have the trust and confidence in your brand that they can get their queries answered in just a few clicks. They will perceive you as a brand that really cares about the customers and their problems.
Three Es that help you rock your SaaS knowledge base 🤘
The very definition of a knowledge base is a self-service online library of information about a product, service, or topic, and how it helps a user solve a particular query. It is not about showcasing how great your brand is.
And here lies the secret of great marketing/content. You never say that you are the best. Instead, you provide your users with so much value (value in terms of a solution to their problems), that they start thinking you are the best.
With these three Es, you will be able to build a high-quality knowledge base that truly helps you SaaS product users.
1. Educational
The aim of a knowledge base is to help users better understand your product to achieve their desired goals. By creating tutorials, how to guide, feature explanation articles, etc., you can shorten the learning curve.
This serves best during the process of onboarding. Your users can get all the information they need be it the interface of your product, managing features, and such.
Slack, for instance, has an entire section dedicated to 'Using Slack' in their knowledge base. It provides answers to a zillion questions like profile management, getting started, managing channels, and so much more.
2. Easy
Here, easy includes both aspects – easy to understand content, and ease of use. Writing a knowledge base article is very different from writing a SaaS marketing blogpost.
Clarity is the key to creating a successful knowledge base. Start by categorizing your knowledge base – onboarding, support policy, refund, user profile, etc. Such compartmentalization will help your users easily navigate the information they are looking for.
In terms of content, it needs to be crisp and to the point. Formatting the content will make the information as scannable as possible. Also, prioritize the workflow of the content. Include important information at the beginning, write clear instructions, and add a call to action.
3. Engaging
Visuals are always impactful. They ensure better user engagement as well as experience. Imagery, screenshots, infographics, and short explainer videos will help increase the retention span.
Ease the process of building a knowledge base with DeskXpand. Add new articles and create categories for each of them. Additionally, utilize different templates that can help you easily convey all the information.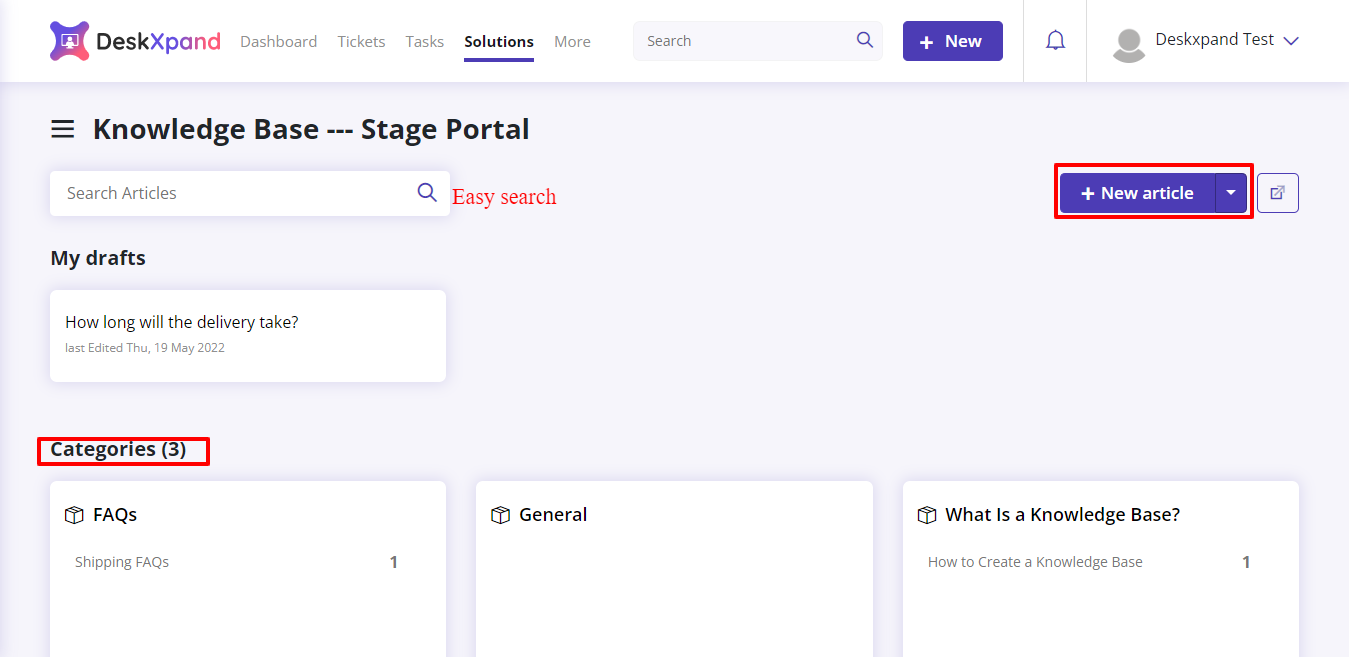 Explore our knowledge base functionality yourself. Take a complete tour of DeskXpand.
Customer support & SaaS marketing go hand in hand. You can't achieve one without the other.
It is not possible to discuss SaaS marketing and forget about customer support. Delivering exceptional customer support complements your SaaS marketing strategy that endeavors and helps in growing a SaaS business.
Being in the SaaS business, you will agree that customer retention is a lot more difficult than winning new customers.
So, how do you ensure high customer engagement and retention rates?
Great customer support is an effective way to keep your customers coming back and purchase your products. Customers base their loyalty on the kind of support you provide. One negative experience and you lose business.
When asking consumers what impacts their level of trust with a company, offering excellent customer service ranked number one.
Additionally, consumers who rate a company's service as "good" are 38% more likely to recommend that company.
Once you have good support in place, you will automatically start seeing results in terms of customer retention and new business. 📈 💰
Here are a few more plus points to consider:
Your support team can use their knowledge base to operate effectively. They need not spend hours on calls or replying to emails as it has three key components that make up the SaaS email marketing strategy: marketing, lifecycle, and transactional email. This not only increases their productivity but also knowledge base ensures speedy response to query.
Once a user has reached the free trial level, you can reduce churn by giving customers access to the right information at the right time.
With a self-service knowledge base, you can ensure consistent and 24*7 customer support, thus improving customer satisfaction.
Market the right way with DeskXpand knowledge base
SaaS marketing is different from traditional marketing. While social media and organic efforts will bring you traffic and free trials, they do not guarantee to push the user from free version to a paid member.
For that, you need to build trust and provide users with the right information to make them feel that you care about their needs.
Building an extensive, informative knowledge base, be it articles, tutorials, user guides, etc., is the first step towards growing and retaining customer relationships.
With in-built self-service knowledge base capabilities, DeskXpand provides the ability to create and publish knowledge base articles easily. Want to know how it works for your business? Take a demo right away!