Many businesses have delayed their plans to return to the office due to the rapid spread of new COVID variants (one after the other.) Others, like my own, have adopted a new hybrid model in which employees alternate between working from home and working from the office. We appear to be entering a "new normal," where many of our old ways of working and doing business will need considerable changes.
One major difference will be that more people will be working from home than before. And that too more often than they did before the pandemic. A recent survey by Gartner states that 82% of business leaders will continue to allow their employees to continue working from home (at least part-time.) 47% of leaders intend to allow employees to work remotely on a full-time basis. Another survey by Slack shows that employees also are not in favor of returning to in-office work environments full-time.
Under such situations, teams rely on various messaging apps and project management software to keep in touch and go about the business. Such asynchronous communication methods are great tools for efficient communication. But, if you're not careful, it can leave you vulnerable to "the waterfall effect." It is an effect that happens when Employee A depends on Employee B for meeting certain requirements to move forward with their tasks. If Employee B responds late, Employee A might fall behind schedule.
When Employee B doesn't respond quickly, Employee A's work may fall behind the schedule. This problem can cascade into a cycle of delayed tasks. As a result, work can stall, and productivity can plummet. Hence, companies should consider making the remote work experience positive for their employees. And I cannot think of a better solution than helpdesks. This article will talk about how IT helpdesk software helps companies optimize their IT support remotely. Let's get started. Here's are some quick pointers:
Managing Remote Support Through Helpdesks
A decade ago, the scenario was completely different. A simple service outage would suspend many organizational processes until it gets fixed. But, today, IT helpdesk software offers out-of-the-box communication and advanced capabilities and enables companies to take care of the outages as quickly as possible. And lately, when the world went to work remotely, helpdesks have proved to be the most effective solution to support employees.
The primary aim of IT helpdesk software is to:
Help provide a fast support
Help provide a qualitative support
Maintain efficiency and effectivity
Make the support cost-effective
Nowadays, there is a swath of helpdesk resources and tools available in the market that helps businesses ensure normal business processes with minimal disturbances. In fact, it is these helpdesks that made the instant transition from office work to working remotely. Helpdesks helped these businesses orchestrate their processes and set them in motion almost instantly. However, the growing influx of support requests still needs to be addressed and resolved. This calls for better alignment and optimization of the helpdesk for support needs. So, what are some major challenges faced by companies and support departments to manage their remote teams?
Challenges of Managing a Remote Team
According to Deloitte, 41% of remote employees report high levels of stress. This number surpassed the meager 25% of regular office employees with high-stress levels. Besides this, 40% of employees reported they were more productive at home during the pandemic than they had been when in the office, and only 15 percent said the opposite was true.
Working at one's own disposal upgrades flexibility. Working remotely and being physically away from discussions as a consolidated team on a regular basis somehow affects the degree of collaboration. When managers relay tasks update new development information, instructions, and other routine management activity over time, they tend to get disconnected. Instead of feeling empowered, they feel as if they're working with isolated and individual silos of talent.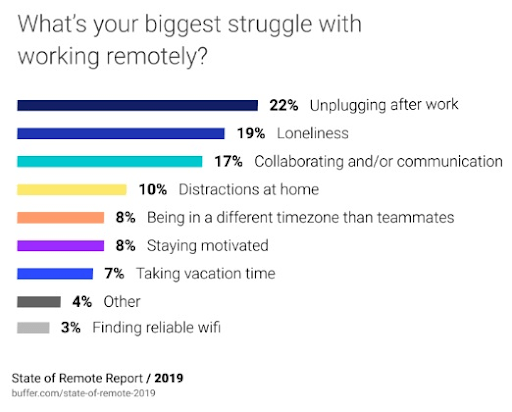 Besides, working as a virtual team increases the risk of falling prey to cyber threats. One such example is employees downloading malware while receiving or sending their data to hackers. Apart from all these reasons, other challenges while managing remote employees are:
Collaboration gaps because of the difference in the internet bandwidths.
Lack of peer communication and competition makes it hard for employees to keep working in a competitive environment.
Being in different time zones
Distractions caused sure to the lack of office (or similar) environment
Let's take a look at how the above-mentioned factors affect the workplace.
Deliver flexible and enhanced IT support experience. Check out DeskXpand's robust IT helpdesk software.
Now that you have had an understanding of the various challenges of remote team management let us proceed and have a quick look at some of the major concerns of businesses while managing remote teams. So how do companies optimize their remote support? And how do helpdesks help?
How to Optimize Remote Support with IT HelpDesk Software
A helpdesk is a canvas on which you can build a myriad of opportunities. All you need to do is identify your needs. You need a centralized helpdesk to host all your operation.
An IT service desk software is a canvas with myriad opportunities to build upon. You just need to identify your support needs. A centralized helpdesk is a must to host all your operations with utmost structural integrity. Moving to a helpdesk solution will be a good start if you haven't already. Helpdesks provide you with a secure, fully managed, well-orchestrated working environment for users across the world.
Helpdesks centralize the workflows, actions, and processes and are crucial for an issue lifecycle to seamlessly flow from beginning to end. Connecting the support experience across time is prevalent while working remotely. This makes an omnichannel approach even more relevant. And helpdesks can help you map this omnichannel user journey effectively. By tracking and managing all requests through a single interface, you'll have better control over the support operations. Employees can raise requests from any channel of their choice, i.e., mobile, website, email, calls, chat, etc.
The rising demand for remote IT support brings forward multiple shifts in the way support is provided. So now we know the importance of helpdesks; let's quickly look at eight ways how remote teams can optimize their IT support through helpdesks.
8 Ways How Helpdesks Help Teams Optimize Remote IT Support
1. Ticketing Made Easy
When it comes to IT support, mismanaging tickets is the most common problem for support teams. Plus, if you are still hung up on conventional manual processes, you may lose track of things that you shouldn't. This is exactly why you must opt for an IT helpdesk software with the following features:
Automatic ticket conversion from Slack (or equivalent) to tickets
Automatic ticket assignment to relevant agents
Shared inbox with shared access (managed automatically)
Chat and comment within the tickets
Ticket alerts and notifications
Auto-responders for redundant responses
Service level agreements management
Unified interface for a single query
Collision detection
Robust data management to save customer history
2. Improved Collaboration Through Helpdesk
Collaboration is the foundation of IT service desk software. Collaborative features are critical and a must-have in order to build a customer-intimate culture. Here are some collaborative features that you must have:
Shared inbox
Collision detection
Merge similar tickets
Intelligent ticket assignment based on various parameters
Readymade responses
Lifecycle tracking
Fast ticket import
3. Conversational Support
Since employees have started working remotely, it has led to them demanding support in the most disorderly fashion, like messaging on Slack (or Slack-equivalents.) Messaging applications have surged in popularity as they provide an easy means for employees to stay connected.
Say you're an employee, and you have the liberty to receive support simply by texting the support team. That would be the most convenient form of communication for you then; why would you bother to write long emails or make a phone call? You won't. This is why conversational support becomes a must-have, where you support employees directly from messaging channels like Slack (or equivalents). Employees can thus get support without leaving the application.
DeskXpand assists brands and helps them gain accountability and flexibility. It helps them support employees within Slack simply by integrating the helpdesk with Slack.
Ensure Compliance in Slack Support with DeskXpand
DeskXpand Slack helpdesk integration closes the gap between the platform you use to engage with your colleagues and the helpdesk you use to resolve issues. It lets you transform the chats from Slack to DeskXpand tickets quickly. Your agents can do this simply by checking the box that says "use slash command." They can then send Slack conversations as tickets. Some prominent features of DeskXpand Slack integration involve:
Converting Slack DMs into Tickets with a single command
Ticket management made easy
Omnichannel with self-help features
In-team collaboration made easier
Easy and quick set-up
Helps support team maintain full context
Centralize and respond faster using DeskXpand's seamless Slack integration.
4. Helpdesks Help You Maintain a Full Context of What Your Customers Want
We are all facing unusual situations that could significantly change the helpdesk's priorities. As a leader, you should take time to understand what support your remote working environment really needs. You can do this by using surveys and focusing on gathering data. The upfront investment will enable you to optimize support for your new business reality.
Handling customer needs will enable you to focus on the more business-critical elements that your support might need. Identifying and mitigating your employee's pain points now will help drive the organizational changes needed to accommodate the workplace of the future.
Once you define and accommodate remote work requirements, you can have the agility to adjust to any remote needs. As businesses struggle to cope with the impact of the pandemic, now is the time to strategize and implement the technical resolutions that enable organizations to scale, adapt, and prepare for the remote future. And only a helpdesk can help you main full context and define your present needs exactly as they are.
A helpdesk enables two-way sync between your communication channels and the helpdesk. This way, you can link your employee requests directly from the communications channels. You can create an issue, sync comments, and close them automatically from your communication interface. You can do the same from the helpdesk, too, so that everyone is on the same page. This ensures that the IT team has a thorough understanding of the request at hand and can deliver appropriate responses.
5. Create Priority-Based Workflows
Helpdesks ensure that all employees (including the support team itself) understand that resolving remote issues may take longer than they expect or presume. Helpdesks help you create and manage a priority-based workflow. It offers a concise, understandable workflow with clear definitions of high-vs-low priority and productivity. While organizational SLAs change when handling primarily remote issues, your IT support team must commit to handling high-priority issues as quickly and efficiently as possible.
6. Self-Service For The Win
Self-service is a key reason why conversational support has become relevant now. Employees definitely do not want to walk upto the support desk for their doubts. Besides, with remote working in place, they are more likely to face issues like VPN access, asset management, access provision, etc. Having your agents attend to these repetitive requests can affect productivity and sidetrack severe queries. With an updated knowledge base, you can enable employees to get appropriate answers whenever they need them.
Using a knowledge base for basic queries is not a new concept. But its rising importance in remote working environments urges organizations to change their mindset towards it. Many businesses view self-service as an add-on-tool and not one that complements the shortcomings of their support function, which it is. By empowering employees to self-serve themselves, you are not letting non-working hours or holidays interrupt the support experience. Businesses should start realizing that just a "good enough" self-service interface won't do the trick and should start vigorously optimizing it.
7. IT Helpdesk Software For Proactive Support
Proactive support is the future of IT support, regardless of remote work. Employees halt their work on trivial issues over and over again. So until the time you give reactive support, the resolution time is already wasted. Organizations are trying to put an end to such inefficiencies by implementing a proactive service. This would include using self-service, analytics, surveys, and performance enhancement. An IT service desk software can help you bring it all together in a single place.
The biggest hindrance in providing proactive support is the mismanagement of data and lack of prioritizing. An IT service desk software will bring all these aspects together and enable you to serve better. You'll be able to keep a 360-degree view of your support through a consolidated dashboard. It'll bring out the best in your team!
8. Automation To Reduce Redundancy
Because of the pressure on support teams to drive maximum output with minimal effort, businesses are rapidly adopting automation features or automated helpdesks. IT workflows enable an obvious automation opportunity. Businesses are extensively automating asset management, resource management, ticket registration processes, access provisioning/revoking process, approval management, and so on. So, if you too remove daunting manual tasks, it'll make way for important, higher-value tasks in your IT support.
Key Optimization Needs For Better Remote IT Support
Whether you're adapting to a remote working era or trying to optimize IT support for empowered employees, helpdesk advancements are the way forward. In the light of this, here are some key optimizations that you need to consider for your IT support in 2022:
Move to a secure IT helpdesk software for data centralization
Adopt an omnichannel approach and connect experiences across platforms
Adopt a Slack-enabled helpdesk to enhance accessibility
Push for the adoption of features like self-service knowledge base and chatbots
Emphasize proactive service
Automate IT workflows for greater efficiency
DeskXpand IT Helpdesk Software
DeskXpand is built by professional developers with 15+ years of experience. We are an ISO27001 certified IT helpdesk software development company, and we can help you build customized products as per your business needs.
Our experts spend a lot of time looking at the peaks and thresholds in the IT support trends. This data enables us to get to the bottom of the trends and determine what will work best in every scenario. This helps us serve our clients with the latest, most secure, easy-to-use products. Begin your free trial and explore our robust IT service desk software.