"Customer Success" is one of the biggest buzzwords in any industry niche, and it is here to stay! It is becoming one of the most critical factors across industries. In fact, it defines the difference between a company going broke and achieving mega-growth.
Let's all agree that the success of the business inherently depends on the success of your customers. If you ace your products and, more importantly, your customer services, your customer will stick by you and continue using your products and services. At its core, customer success is all about:
Retaining existing customers
Improving the overall customer lifetime value
Ensuring that customers achieve their desired resolutions
In order to pull this off, you'll need people, streamlined processes, data, and most importantly – the latest tools to organize and manage the former three aspects. In this article, we'll talk about how helpdesks change your way of serving your customers. Tag along with this checklist and see how many you check off. I am sure, at the end of this article, you'll be able to tell whether you need to adapt an email helpdesk or not.
Helpdesk ticketing Tools: Why Do They Matter The Most For Email Ticketing Software
Customer happiness and satisfaction are not something that you can take for granted. Helpdesk tools or email ticketing systems help to deal with just this.
Helpdesk tools are indeed great inventions. They help your company streamline your customer support operations, help your agents perform well, and fasten your query resolution rates. But these are not the only reasons why you should adopt an email helpdesk tool.
You need to start by thinking about the kind of services you offer and how you need to improve your existing services for customers. If you've been a part of the industry for a long time, you must be using legacy tools based on third-party applications. The solutions might be working for you, but you still receive a lot of negative customer feedback. Plus, if you're still reading this, it probably means you're not happy with the performance of your current tools or help desk.
Below I've outlined signs that might suggest that your customer support department needs to revamp your ticketing tools or helpdesk tools ASAP.
1. Still Stuck on Spreadsheet
Here's a quick tip – don't use it anymore.
Spreadsheets are free to use and seem like an obvious solution in the beginning. But, if you're going to scale or are planning to scale or have already scaled, it is time to use more coherent data management systems. The more data you need to manage, the harder it gets to streamline your support. It will be hard for your support reps to catch up with the data. It'll be hard for new employees to understand the data management process. Manual systems also call for tons of errors. These are just a few disadvantages, to begin with.
Consider a scenario where your client gets in touch with you through email and then wants to shift to another channel, say phone call or social media? Will you want your support reps to manage this information manually? An email ticketing system will automate the data management process for you.
2. You Don't Have a 360-Degree Support View
As an admin, you'll have a 360-degree view of your support. Email helpdesks provide a unified dashboard. A unified dashboard allows the admins or the support managers to monitor everything from a single place. They can see all the agents and their work from a single place.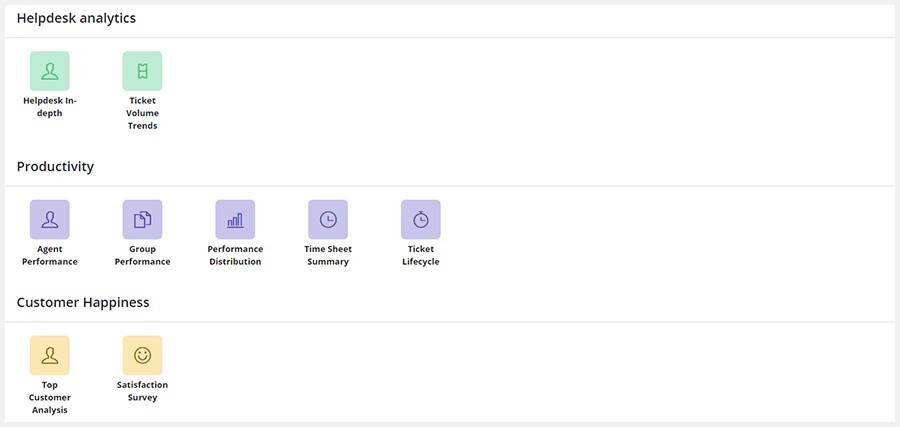 DeskXpand Dashboard
Admins can provide quick support if an agent is stuck somewhere or has a problem in the workflow. This dashboard will also have reporting and analytics features so that managers can analyze every critical situation and take necessary advantages.
3. Your Resolution Time is Extremely Low
You must have experienced this one yourself. Waiting for help when they need it the most is one of the worst customer nightmares. Customers do not want to and will not wait for long. Look at their expectations: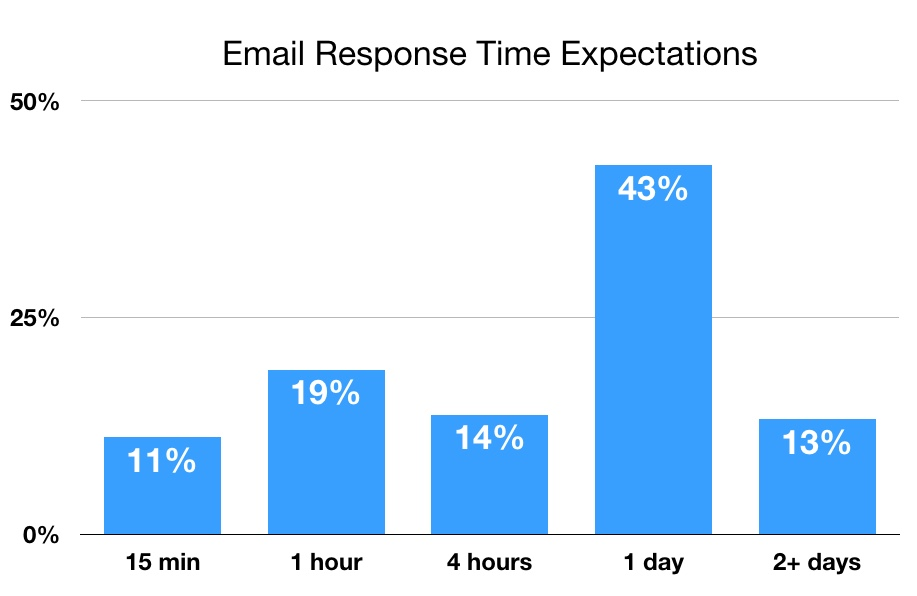 Email Response Time Expectations
So, if you observe that your customer support agents cannot keep up with the customer expectations, it is best to act right away. It is a clear sign that you need an email ticketing system right away. An email helpdesk will help your agents answer queries on time. Plus, you can automate your ticketing tasks like ticket registration, ticket assignment, distribution, and save time.
Your team can leverage tools like canned responses, email templates, and knowledge base to save time for repetitive queries and frequently asked questions.
4. Trouble Using Multiple Software at The Same Time
Tools work better when they're together. Your email helpdesk will be more effective when it is integrated with your:
Data management tools like Trello, Jira, etc.
Ecommerce software like Magento, Shopify, etc.
Survey tools like SurveyMonkey, Google Forms, etc.
Social Media channels like Facebook, Twitter, etc.
Sales CRM, like Highrise or SharpSpring
Email marketing tools like Mailchimp and GetResponse
So, do any of the warning signs described above apply to your business? If the answer is yes, check out the DeskXpand email ticketing system specifically built to cater to SMEs.
The processes become improper and inefficient when you manage customer queries through email threads and other disparate tools. You risk wasting resources and leaving customers unsatisfied. The only key to successful customer service is fulfilling customer requests effectively and accurately. Hence, it would be wise to opt for an email helpdesk to delight customers and avoid disruption.
DeskXpand helps companies to avoid the pitfalls by helping them organize and automate their workflow. All from a single place! Consolidate all information into a single system and track the status of their support team easily. To yield a solid customer support record, you MUST check out DeskXpand.